Back
Attending the Grand Prix for the first time?
04/04/22

Learn what a Grand Prix weekend looks like.
Attending the Formula 1® Heineken® Australian Grand Prix for the first time? First, welcome – it's great to 'meet' you. And second, let us give you a hand in understanding exactly what you'll be seeing this weekend.
We know you'll enjoy your first taste of watching the world's best drivers strut their stuff on the Albert Park Grand Prix circuit, but making sense of F1® when you're experiencing it in the flesh isn't the work of a moment, trust us.
So, here's a 10-chapter cheat sheet for getting your head around what you'll see – and one that will increase your knowledge and enjoyment of your experience trackside.

Why do the cars look so different this year?
Let's get this tricky topic out of the way first, shall we? Formula One cars are fast – this year, they'll be travelling well in advance of 300km/h as they hurtle towards Turn 1 at Albert Park. But in the past, the ever-sophisticated machines have been designed with speed and performance in mind, which doesn't necessarily translate to their ability to race one another at close quarters.
Compare an image of a 2021 car with this year's machinery, and you'll see what's changed. The cars this year feature a higher nose, are flatter than their predecessors, have a smaller and curvier rear wing and have much bigger tyres, which are low-profile like a road car. That's the visual takeaway, but it's what you can't see – the air that is disturbed by a car hurtling through it – that's more significant.
Friday Grandstand tickets for the Formula 1®️ Heineken®️ Australian Grand Prix 2022 are available from $91. Get them before they sell out.
In the past, the disturbed air as a car cut through it was redirected across the car's outer bodywork to keep it aerodynamically nailed to the road – downforce – while creating a wake behind the car that, unintentionally, disturbed the airflow a trailing car would drive into. The trailing car would have its own downforce compromised, would slide around more, would ruin its tyres, and would often find it hard to approach a rival to pass, let alone overtake them.
With this year's cars, more of the airflow will be directed beneath the chassis, creating a 'ground effect' phenomenon where the car is sucked to the road from tunnels in the car's floor. The 'dirty air' a car creates will be directed by the angle of the new rear wings much higher than in the past, meaning a trailing car isn't driving through what amounts to an invisible forcefield.
Less dirty air means cars can follow closer, which means they can race another more easily, which increases the prospects for more passing.
Got it? Good. Let's keep it moving…

What's the format of a race weekend?
An F1® race meeting features three one-hour practice sessions, one three-part qualifying session, and a race. How do they all work? We'll get to that.
Sunday's race is held over 58 laps, far more than the 44 laps of the Belgian Grand Prix, and way fewer than the 78-lap Monaco Grand Prix. Why? The number of laps in a Grand Prix is calculated by total race distance; the minimum length of a Formula One race is 305km, so a race has to complete however many laps are required to reach that figure.
At over 7km, Spa-Francorchamps in Belgium is the longest track F1® visits, therefore that race has the fewest number of laps. The newly-reconfigured Albert Park circuit comes in at 5.279km, so the cars will surpass that 305km minimum mark on the final lap of the race.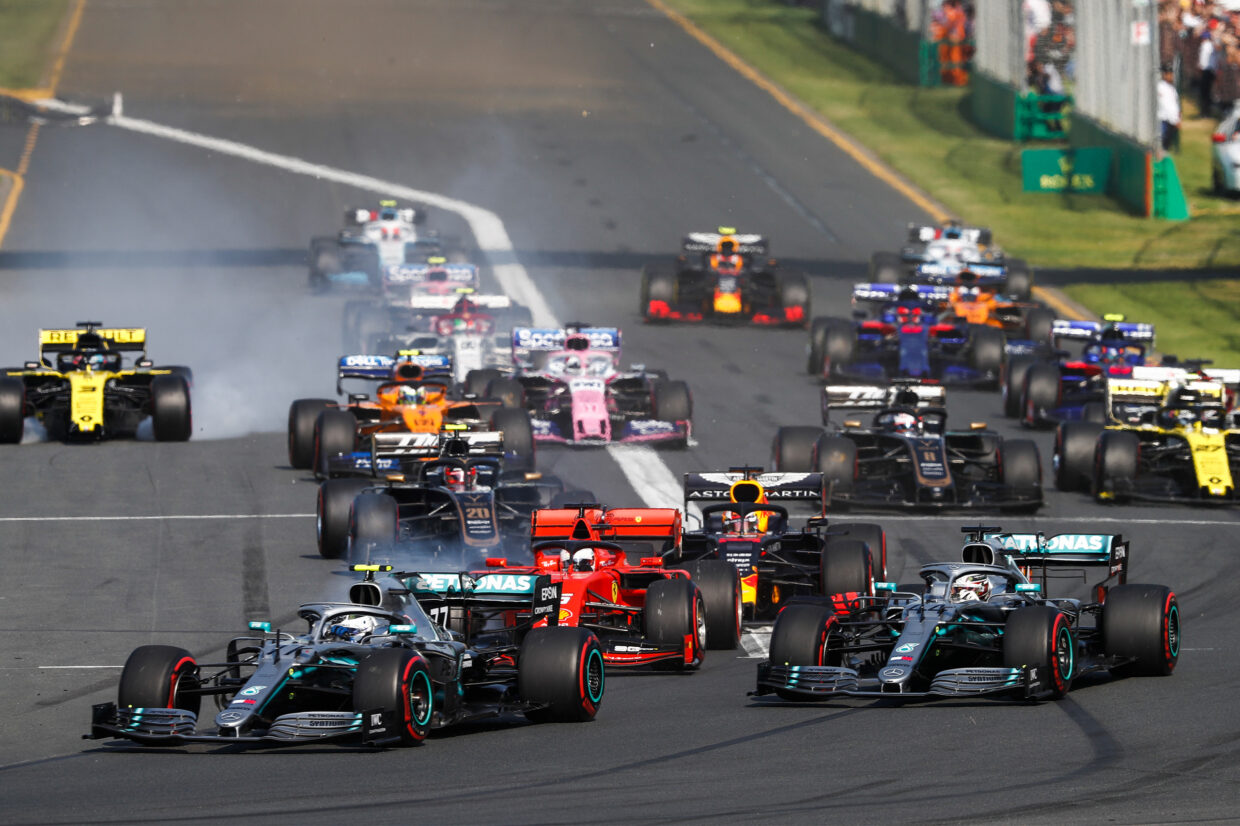 Valtteri Bottas, Mercedes AMG W10, leads Lewis Hamilton, Mercedes AMG F1 W10, Sebastian Vettel, Ferrari SF90, Charles Leclerc, Ferrari SF90, Max Verstappen, Red Bull Racing RB15, and the rest of the field in to the first corner
How do I make sense of the three practice sessions?
Unlike in MotoGP™, where the times riders set in practice actually count to establish who sits where in qualifying, the stopwatch doesn't matter in F1® practice – other than to provide a form guide for what might follow.
How teams approach practice varies to some degree up and down the pit lane, but most follow a tried a true formula.
In the first 60-minute practice, the track is usually referred to as being 'green', as in dirty, dusty and not offering much grip because of the lack of racing rubber on the road. Teams will generally send their cars out for 'installation laps', where drivers conduct system checks and make sure the car is in working order. The rest of the first hour is spent gathering data and having the drivers get their eye in, and that data is analysed in the two-hour break between first and second practice on Friday.
In second practice, teams will send their drivers out on 'push laps' to explore the limits of the car early in the session, getting a gauge on optimum performance. The fastest lap times of this session are often set in the first 15-20 minutes, as teams usually use the back half of this hour to conduct race simulation runs, having their drivers test the durability of different compounds of tyres (we'll get to that, too).
Saturday's practice is the final chance for teams to have their drivers push for fast lap times before they actually count in qualifying, so expect drivers to set their best times as the clock counts down. The rewards from that approach have to be balanced with the risk of a driver damaging their car in an accident – always a heightened possibility at a street circuit like Albert Park – given that qualifying is held just two hours after third practice ends.
What happens in qualifying?
Qualifying is split into three parts. After Q1, an 18-minute session, the slowest five drivers on the timesheets are eliminated from qualifying and form grid positions 16-20 for Sunday's race. The lap times from this session don't carry over to Q2. Q2 lasts for 15 minutes, and again, the slowest five drivers are eliminated, forming grid positions 11-15 on the grid for the race the next day. Again, those lap times don't carry over for Q3.
Q3, to set grid positions 1-10, lasts for 12 minutes and is the one time all weekend you'll see a Formula One car totally unleashed – brand-new tyres, enough fuel to complete one lap at maximum speed while keeping the car as light (and fast) as possible, and drivers giving it everything to ensure their best possible grid position.
A driver can complete a lap they've started before the 12-minute period has elapsed, and the 12-minute window generally allows each drivers to complete two 'runs'; a slow lap out of the pits, followed by a 'flying' fastest possible lap, followed by an 'in' lap, where they return to the pits.
Qualifying on pole position in Formula One is important, but no guarantee of success. Just ask Lewis Hamilton – the Mercedes man has been on pole for each of the past six races in Melbourne, but has only converted one of those (2015) into a victory.
How do the tyre rules work?
Pirelli, Formula One's tyre supplier, has five different compounds of dry-weather tyre for the 2022 season; for each race, it'll bring three of those, which the teams are told about at least a fortnight before each Grand Prix.
The three types of slick tyres on offer are colour-coded, the hardest of the three compounds given a white stripe on the side, the softest a red stripe, and the medium marked in yellow. In addition, Pirelli bring intermediate tyres (often called 'inters', marked with a green stripe) and wet-weather tyres ('wets', marked with a blue stripe) that only come out if the weather plays a part.
Broadly, the tyres present teams with strategic options. While the softest tyre provides the greatest grip over one lap and is fastest (which is why it's used in qualifying), it isn't as durable as the medium, and the medium is less durable than the hard. In a race, each driver must use two different compounds of tyres, necessitating at least one pit stop to change from one compound to another.
Start on softer and more brittle tyres and pit early after going as hard as you can, or begin the race on tyres that offer less performance, but last longer? It's one of the many conundrums being resolved in real time by the strategists and engineers at each team.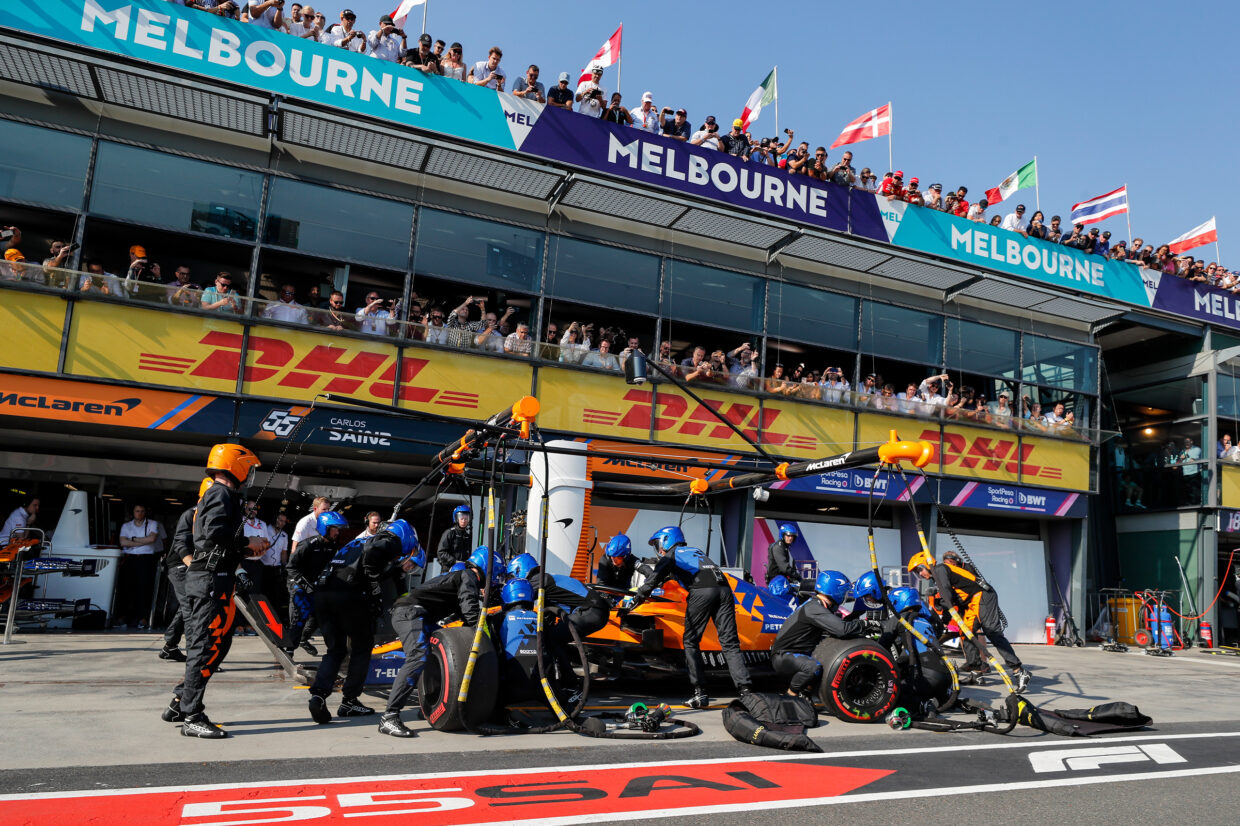 Lando Norris, McLaren MCL34, makes a pit stop
How does a race take shape?
Remember what we said about qualifying being the time we see cars at their peak performance? That's because a Formula One race is about lasting those 305km or in Albert Park's case, 58 laps, all while tiptoeing the fine line between performance and car durability.
F1® cars can start a race with a maximum of 110kg of fuel (F1® measures its fuel by weight, not volume), but most teams will elect to run less as extra fuel equals extra weight, and extra weight makes a car slower. So, drivers won't be pushing flat-out at the start of a race when their cars are at their heaviest so they can 'save' fuel; to illustrate the point, the fastest first flying lap of the 2019 race in Melbourne (after the cars completed lap one from a standing start) by leader Valtteri Bottas was nine seconds slower than Mercedes teammate Hamilton managed in qualifying to set pole the previous day.
Also, pushing too hard too early can shorten the performance window of your tyres, and the time lost by a driver as they pit for new rubber is considerably more than the time they gain by thrashing their tyres too early. Generally speaking, the fewer pit stops you need to make for tyres, the better – again, striking that balance between pace and staying power.

Do the drivers have to make pit stops in a race?
Yes, for the tyre compound reasons mentioned above, and definitely for strategic purposes. Stuck behind a rival in front who you feel you're faster than? Why not pit earlier than them, fitting new tyres and 'undercutting' them once they make their own pit stop by extracting maximum performance from your new tyres? Or do the opposite, stay out on track as long as possible as your rivals pit to gain places, and then hope to be able to hold onto them when you make your own pit stop (or stops)?
As well as for tyre changes, drivers will also pit during races for reasons of mechanical reliability, to serve penalties for racing incidents, or if they feel a wet track is drying (changing from inters or wets to slicks) or getting wetter (dumping dry tyres for a wet-weather option).
The latter is a seat-of-the-pants decision that can dictate a race; in Australia in 2003, McLaren's David Coulthard pitted after lap two and fell to last place, sensing the circuit was rapidly drying after a pre-race deluge. He called it right, the Scot stealing a strategic march on his rivals and eventually winning in Melbourne for the second time.
Another factor to consider in pit stops: for reasons of safety, drivers are restricted to 80km/h in the Albert Park pit lane; on the start-finish straight that runs parallel to the pits, their racing rivals will be flashing past at more than 300km/h.
What do the flags shown to the drivers mean?
Watch the trackside marshals over the weekend, as they flags they're displaying mean different things to different drivers at different times. Here are the basics.
A single yellow flag means overtaking is prohibited because of danger near the track; double waved yellow flags means drivers must slow down and be prepared to stop.
A red flag halts the race and sees cars return to pit lane because of bad weather, debris on track or other danger that can't be cleared under a yellow flag, while a blue flag indicates to a driver that a slower car is about to be overtaken by a faster one, typically used when a driver is being lapped.
A green flag means racing has started/been resumed after a yellow flag period, while a black flag means a driver has been disqualified from the race and must return to the pits immediately.
A white flag means there is a slow-moving vehicle on track (the safety car, a course car, a recovery vehicle), while the signal the drivers all want to see first – the chequered flag – indicates the end of the race, qualifying or practice session.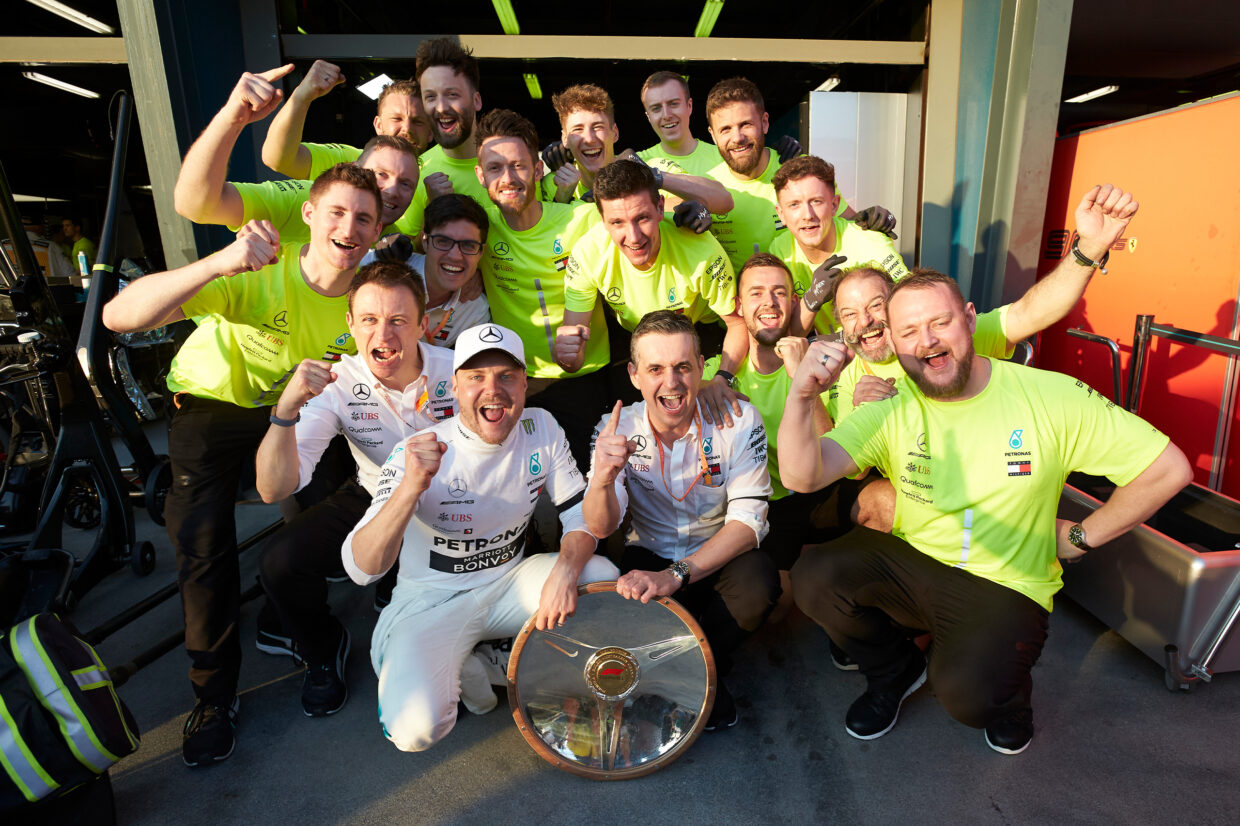 Valtteri Bottas, Mercedes AMG F1, 1st position, celebrates with his team and trophy
What points are allocated to the drivers for the world championship?
Since 2010, the winner of a Grand Prix has been awarded 25 world championship points, with the top 10 finishers scoring points in a sliding scale system: 2nd: 18 points; 3rd: 15; 4th: 12; 5th: 10; 6th: 8; 7th: 6; 8th: 4; 9th: 2; 10th: 1
Since 2019, a further point has been awarded to the driver who sets the fastest single lap in the race, provided that driver finishes inside the top 10.
The points accumulated by each team's two drivers are added together to determine the winner of the constructors' championship.
Do the drivers get to keep their trophies for finishing on the podium?
Typically, no. Most drivers will have fine print in their contracts to have replicas of their trophies made for them, but it's the teams who keep (and proudly display) the original silverware at their headquarters all over the world.
Don't feel too bad for the drivers though; most will have considerable bonuses in their contracts for podium finishes and wins, numbers often running to seven figures. No wonder they look happy when they're spraying champagne on the podium …