Accessibility Services Information
PARK PASS (GA) PLATFORMS
There are three Park Pass (GA) platforms that provide accessible viewing for patrons and their carers/companions. These viewing platforms are located at:
Turns 2-3 (access via Gate 2)
Turn 10 (access via Gate 9)
Turn 12 (access via Gate 10)
All platforms are clearly signed, managed by event staff, and are available on a first-come, first-served basis.
GRANDSTANDS
Three Grandstands – Schumacher, Prost and Moss - provide accessible seating. Please call Ticketmaster on 1800 100 030 for booking details.
Grandstands are open to all Park Pass (GA) ticket holders on Thursday of the event.
HOSPITALITY
Fully wheelchair-accessible hospitality facilities include:
Further accessibility details for our Hospitality Suites can be found here.
AGPC is affiliated with Companion/Carer Card to ensure all fans at the Formula 1® Heineken® Australian Grand Prix have full and equal access to the event.
When the holder of the Companion/Carer card purchases a full-priced ticket to the event, a second ticket will be issued for their companion at no cost or at a reduced rate (subject to the terms and conditions of the Companion/Carer Card and not applicable for hospitality tickets).
For more information:
For queries relating to venue access, please contact AGPC on (03) 9258 7100. For all bookings, please contact 1800 100 030.
Patrons may catch a train to Southern Cross Station (Spencer Street) or park in the car parks in the city and catch a free accessible tram (Route 96) from Southern Cross Station to the circuit. Tram routes 5, 6, 16 and 72 can be taken from Flinders Street Station at Swanston Street.
Patrons will be dropped off at Gates 1 and 2 (Route 96) or 9 and 10 (Routes 5, 6, 16 and 72). Click here for further information on these tram services.
Patrons may also catch a SkyBus directly from Melbourne Airport to the circuit on an accessible bus. For further information, please contact SkyBus on 1300 759 287.
A free internal shuttle service operates on all days of the event. Please note, travel on trams between the city and the event is free for all event ticket holders. Low-floor trams operate on all services on the Route 96 Grand Prix Express.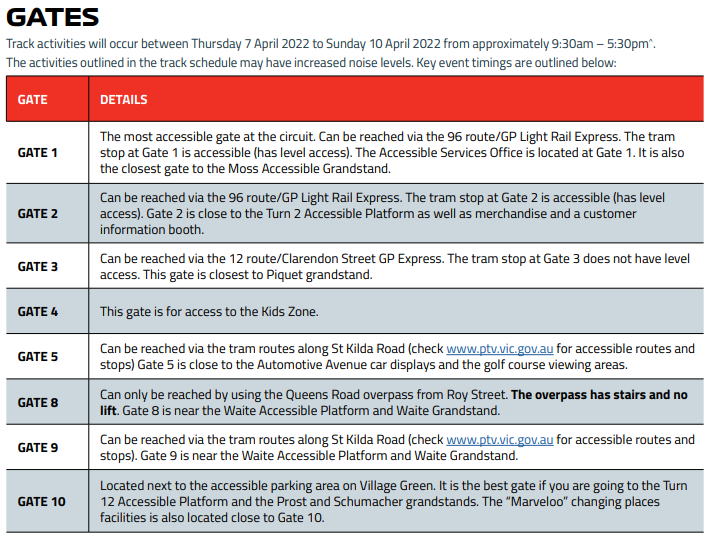 There are several Taxi Ranks around the circuit, specifically located at Gates 1 and 2 (Canterbury Road), 3 and 5 (Albert Road), Gate 8 (St Kilda Road), and Gate 10 (Fitzroy Street). Patrons should allow for the extra demand during the event period, specifically at Gates 1 and 2.

Patrons can utilise existing multi-purpose vehicles. Bookings through:
Silver Top Central Booking Line on (03) 8413 7202
13CABS on 13 2227
13CABS on (03) 9277 3877 (wheelchair-accessible taxi bookings)
Yellow Cabs on 13 1924
Circuit Transport - Accessible Shuttle
A free accessible shuttle service operates within the circuit to designated stops for patrons with limited mobility. This service can accommodate one companion carer per patron.
Priority will be given to patrons who pre-book the service from Monday 4 April 2022 by calling Wheelaway on 1800 133 320 or 0438 683 598.
Bookings can also be made on the day by calling 1800 133 320 or 0438 683 598 or visiting the Accessible Services Office at Gate 1.
Accessible parking is available at Gate 10 in the Village Green Car Park. A permit must be obtained through AGPC in advance on (03) 9258 7100 or emailing accreditation@grandprix.com.au.
Travellers Aid
Travellers Aid is a friendly and professional service offering support, advice and assistance to the travelling public, including people with special requirements or experiencing travel emergencies.
Travellers Aid is centrally located at Flinders Street Station (within the ticketed barrier area, between Platforms 9 and 10) and at Southern Cross Station (under the Bourke Street Bridge, opposite Luggage Hall). For more details on Travellers Aid, please call:
Flinders Street Station on (03) 9068 8187
Open 7 days from 8:00 am - 7:00 pm
Southern Cross Station on (03) 9670 2072
Open 7 days from 6:30 am - 9:30 pm
Access to the infield of the circuit for patrons with limited mobility is via the free accessible shuttle or through the two tunnels under the track.
Tunnel access requires patrons to negotiate steep and long ramps on either side of the tunnel. Seek assistance from security personnel at the event to ensure safe passage through either tunnel.
The circuit has been BindiMaps enabled. BindiMaps is Australia's most widely used accessible wayfinding app that provides easy-to-follow audio, map and text navigation that delivers detailed points of interest, facilities and amenities around the venue.
BindiMaps is optimised for people with a disability, including people with vision impairment and wheelchair users.
Both Apple and Android users can download the free app, "BindiMaps", from the App Store and use it to navigate the circuit and find places of interest.
For further information about BindiMaps, click here.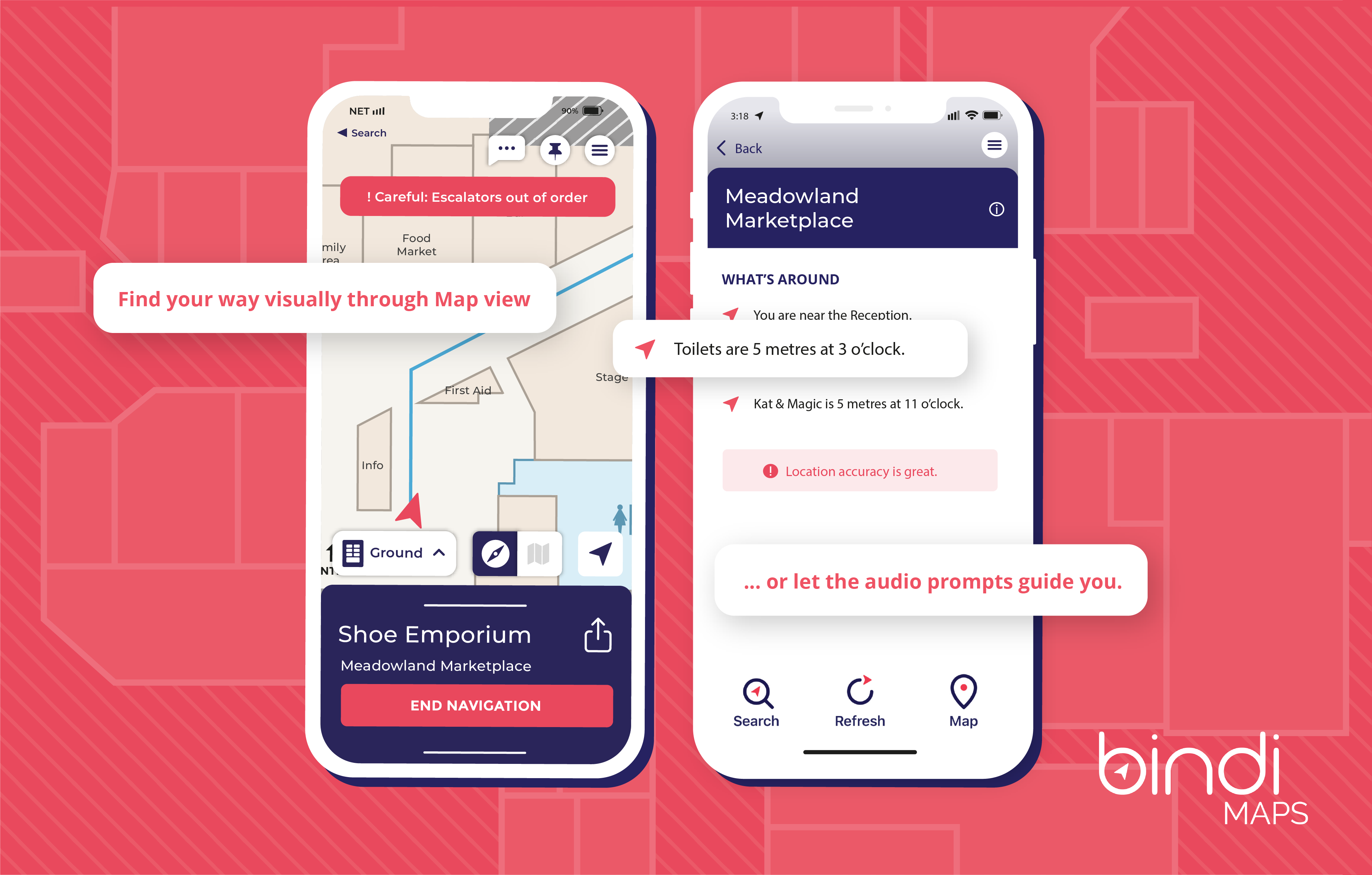 Changing Place facilities have been designed to meet the needs of people who require additional assistance or services that cannot be found in standard accessible facilities.

Changing Place facilities are purpose-built and provide the following features:
Fully accessible toilet
Overhead ceiling hoist (rated to 1000 kg)
Height-adjustable adult change table
Additional seating
Safe and clean environment
Adequate space
Access ramp
Automatic taps
Privacy curtain for when a carer is present
Prior to use, all users are required to provide their own sling for use of the overhead ceiling hoist and are advised to check that their sling is compatible with the ceiling hoist provided in each Changing Place facility.
The Marveloo facility at the event is fitted with a Prism Medical Model C-450 Ceiling Hoist. If compatibility has not been checked or there is some uncertainty, the user should not use the ceiling hoist.
The Marveloo facility is located at the accessible viewing platform located at Turn 12, indicated by the accessible changing place logo on the Circuit Map and Accessible Services Map.
A new feature for 2022, our Comfort Corner can be found near the Kids Zone at Lakeside Stadium. This purpose-built room provides a quiet, safe space for any of our guests who may require a sensory escape during the Grand Prix.