Back
The top 10 moments at Albert Park (10 to 6)
30/03/22

Melbourne and Albert Park has become synonymous with the excitement of F1®.
The promotional posters for the 1996 Australian Formula 1® Grand Prix were spot-on. 'What a great place for the race', they spruiked, and in the ensuing decades, Melbourne and Albert Park has become synonymous with the excitement, intrigue and anticipation that goes hand-in-hand with F1®.
The greatest moments at that 'great place'? Star rookies, wheel-to-wheel races, incidents and accidents, success by dominant forces and rank outsiders alike … F1® in Melbourne has had it all.
The 10 most magical? Let's count them down.
10 2016: Fernando takes flight
"Luckiest man alive" declared the back page of the Herald Sun newspaper after the 2016 season-opener at Albert Park, and with good reason. The race was settling into a rhythm when Fernando Alonso's McLaren came across Sauber's Esteban Gutierrez at close to 300km/h into the braking zone of Turn 3, and as the Mexican juked left to cover the Spaniard, Alonso's right front wheel clipped Gutierrez's rear left. The McLaren swiped the outside wall and then took off.
It was a testament to modern F1® safety standards that both drivers were back in the paddock and talking to the world's media even during the resultant 20-minute red-flag delay to sweep up the shrapnel from the accident.
Friday Grandstand tickets for the Formula 1®️ Heineken®️ Australian Grand Prix 2022 are available from $91. Get them before they sell out.
"You want to stop and it doesn't stop," Alonso explained. "You see the sky, the ground, the sky, the ground and you don't know.
"When I stopped, I saw a little space to get out of the car and I went out quickly just to make sure that people at home were not too worried about me. I didn't know where I was because I was so far from the track ..."
Remarkably, Alonso missed only the next Grand Prix in Bahrain with lung and rib injuries.
9 2001: The best rookie crop ever?
Ahead of the 2001 season-opener, a quartet of rookies were asked to pose for a pictorial memento of the occasion on the Albert Park grid. Little could we imagine then what three of those Melbourne debutants would go on to achieve.
Fernando Alonso, 19, was the "home" driver of sorts on the 2001 grid, the Spaniard making his debut with Minardi, owned by Australian businessman Paul Stoddart, and finishing a surprising 12th. From there? Two world titles and 32 F1® wins don't even begin to do justice to his imprint on F1®, an imprint that's still evolving as he returns to Melbourne this April with Alpine.
To Alonso's right in that famous photo? Juan Pablo Montoya, who arrived at Williams with a big reputation from his open-wheel exploits in the US. The Colombian retired from his debut, but won seven races in a combative six-year career.
Next to Montoya? Kimi Raikkonen who, at 21, stepped out for Sauber. Raikkonen was 'The Iceman' even then, needing to be woken up half an hour before his F1 debut, where he scored points in sixth. Twenty years, 21 victories and a world championship (2007) later, Raikkonen bid the sport farewell at the end of 2021.
The 'other' guy in the photo? Enrique Bernoldi, the Brazilian who drove two seasons for Arrows and never scored a point. Three out of four ain't bad …
8 1999: The luck of the Irish
Michael Schumacher, Sebastian Vettel, Fernando Alonso, Kimi Raikkonen … all giants of the sport who have driven for Ferrari in Melbourne, but none of that quick quartet can lay claim to being the first Prancing Horse driver to canter to a win at Albert Park.
For Eddie Irvine to have his name next to that inscription in Melbourne's history is unlikely when you consider those names who raced here in red, and the summation of Irvine's career – four wins from 146 starts with three teams. But in 1999, the Irishman's luck was in.
McLaren front-row pair Mika Hakkinen and David Coulthard retired early on with reliability gremlins after being a second faster than anyone else in qualifying, while Ferrari's top dog Schumacher stalled on the grid after the initial start was delayed by the smoking Stewart duo of Rubens Barrichello and Johnny Herbert. It was an old-style early-season race of accidents and attrition – just eight of the 22 starters saw the chequered flag – but it was Irvine who saw it first, the 33-year-old winning on his 82nd Grand Prix start.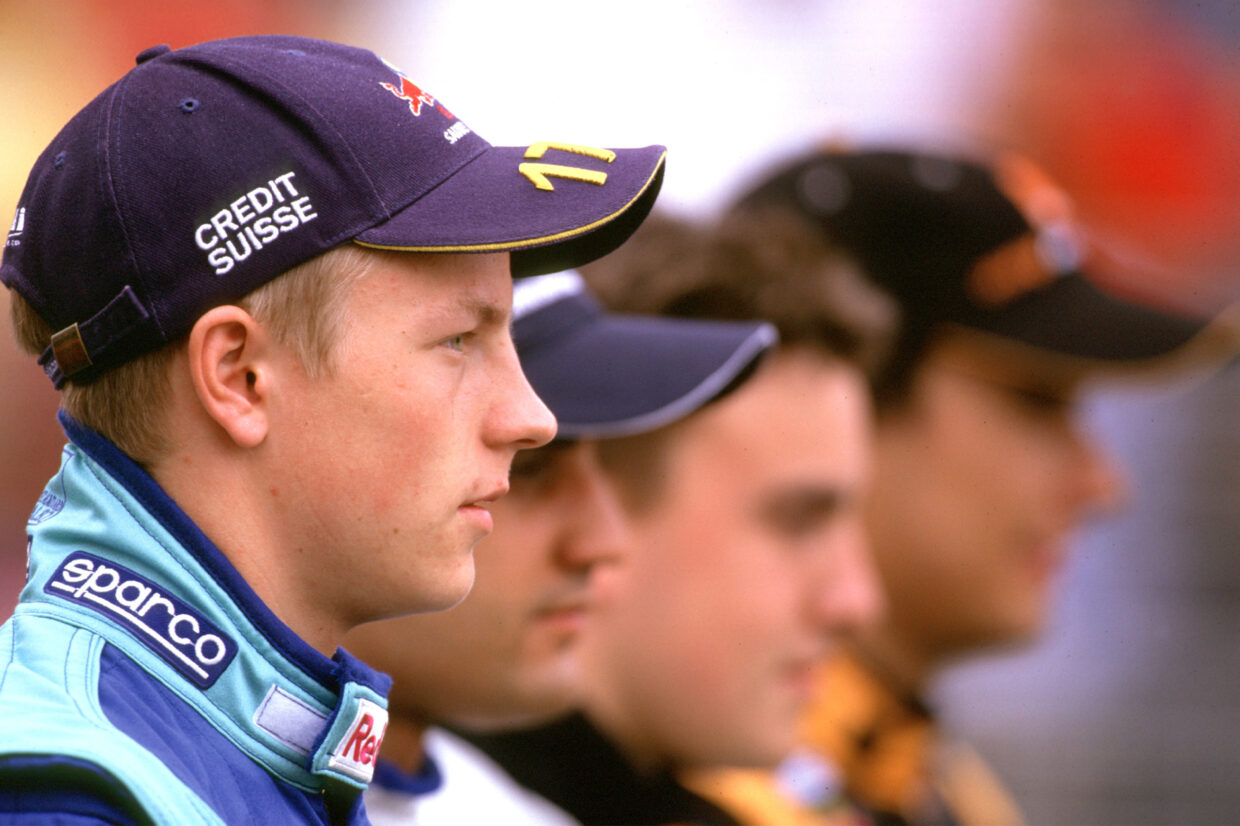 7 2007: A star is born
Sometimes a driver who ends up occupying a special place in Formula 1®'s history offers an immediate portent of what's likely to follow. In 2007 at Albert Park, that was Lewis Hamilton, after the brilliant Briton waited all of one corner to exceed the hype.
The 22-year-old arrived amid predictions of greatness, lining up for his first race in Melbourne in an all-new line-up for McLaren alongside Fernando Alonso. Few – particularly the two-time world champion – could have foreseen what was to happen soon after the lights went out, when Hamilton, from fourth on the grid, arrowed across the track after being boxed in on the inside to sweep past Alonso on the outside into the first corner. It was breathtakingly audacious, and 57 laps later, Hamilton had his first podium in his first race with third place.
Since? Given he arrives in Melbourne this April as a seven-time world champion and with more than a century of Grand Prix wins, it's safe to say that first moment of magic in Melbourne set the tone.
"If I'd started first, it wouldn't have been as epic," Hamilton reflected. "Overtaking the two-time world champion at the time ... as a rookie, that was really the first stepping stone to being where I am today."
6 2009: Brawn brains them on debut
To comprehend the gravity of what Brawn GP did in 2009, we need to rewind to December 5 the previous year, when Honda withdrew from F1® with immediate effect. Three months from the start of the next season at Albert Park, the chances of drivers Jenson Button and Rubens Barrichello being on the grid were somewhere between slim and none, and even after team principal Ross Brawn led a group to buy the team, there were less than four weeks before the lights went out in Australia.
Sporting a white chassis largely bereft of sponsors and using a car that had been developed extensively by Honda until it pulled the financial plug, Button qualified on pole next to Barrichello on Saturday and then controlled the race on Sunday, Barrichello making it a dream 1-2 for the debutants after recovering from a tardy start.
It was a win set against the backdrop of a legality controversy over a double diffuser being used by Brawn, Toyota and Williams, but once the aerodynamic aid was declared legal, Brawn didn't look back, Button winning six of the season's first seven races and – later – the world title.