Back
Leclerc vs Verstappen: An In-depth Analysis of the Bahrain Grand Prix
24/03/22

Thanks to Versor, the official AI partner of the Australian Grand Prix.
In an epic battle at the Bahrain International Circuit, it was Ferrari's Charles Leclerc that drove a mature and strategic race to win the season-opening race.
Ferrari's investment in the 2022 car has seemingly paid off with a deserved one-two victory - Ferrari's best start to a season since 2010 which curiously came on the same circuit.
Comparing telemetry over the fastest laps highlights the discrepancy in top-end speed between the Ferrari and Red Bull, even without the benefit of Drag Reduction System (DRS) and slipstreaming, both Red Bull cars were approximately 8% quicker than Ferrari in straight-line speed on their fastest laps.

So, where was the difference in lap times between two of this year's championship contenders?
Leclerc's Ferrari maintained higher cornering speed, especially throughout the complex series of turns 5, 6 & 7, as well as the high-speed section of corners 11 through to 13, allowing him to post the fastest lap of the race. This was consistent with performance in Q3 qualifying where the Ferrari's superior handling through medium speed corners was clearly evident.

Taking a single lap in isolation often conceals other information revealed by looking over the course of the whole race. The Bahrain circuit is notoriously hard on brakes and tyres, making it impossible to consider a single lap in isolation and the mean speed difference between Max Verstappen and Leclerc over the race shows where Leclerc was able to consistently gain time over the Red Bull.
Leclerc was marginally faster than the Red Bulls throughout most of the lap, especially out of the final corners where he was likely engaging Kinetic Energy Recovery System (KERS) to keep Verstappen out of DRS range. Where Verstappen was able to claw back time was on the slow tight corners at the end of long straights where the Red Bull's superior speed really came to the fore.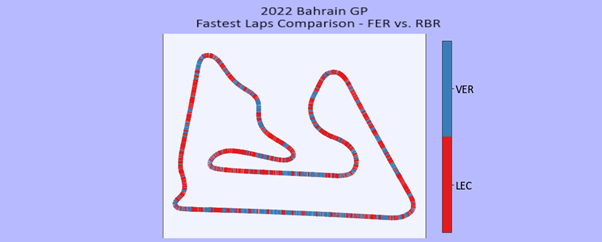 Unfortunately for Red Bull fans, the car was unable to back performance with reliability, with the scene is now set for a spectacular battle with their Italian rivals while perennial Constructors Champions Mercedes will also be hoping to close the gap as the season progresses.