Back
The grid has changed since Formula 1® was last in Melbourne
28/03/22

Which drivers will be returning and who is no longer on the grid.
It's a staple of (just about) every appearance of the Australian Grand Prix since the world championship first came to Albert Park in 1996; the 'school photo' to mark the first race of the year, which Melbourne has been for 22 of its 24 previous instalments on the calendar.
While Bahrain hosted the first race of the 2022 season, it has been a while since the sport's entire grid gathered for that one photo on the Albert Park start-finish straight; March 17 2019, to be exact.
A LOT has changed in F1® since then – just six of the 20 drivers in this shot are with the same teams three years on – so let's look back at who was where in 2019, and where they are now.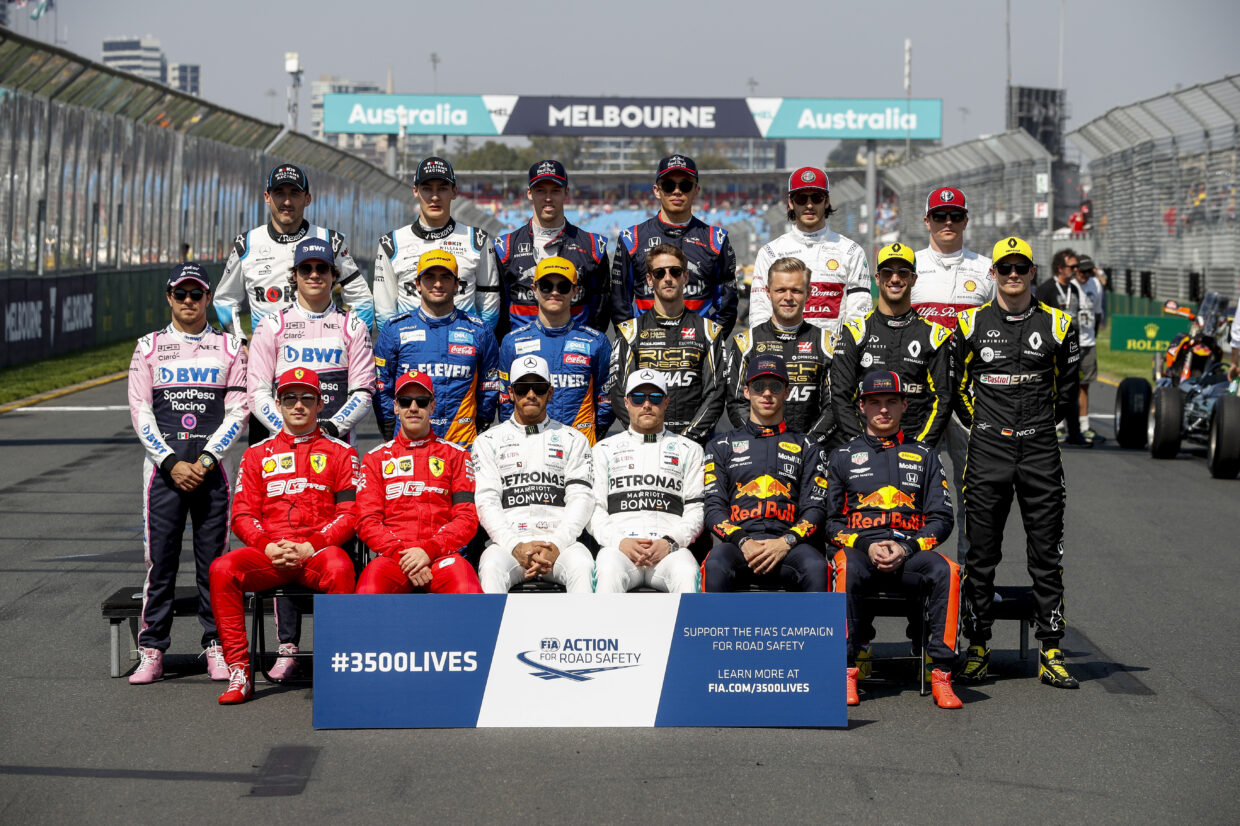 The grid ahead of the Formula 1® Rolex Australian Grand Prix 2019
Robert Kubica (back row, far left)

THEN: Australia 2019 was the start of the Pole's second coming in F1®, after his promising early career with BMW-Sauber and Renault came to a halt after a rallying accident before the 2011 season. His maiden race with Williams saw him qualify – and finish – last.
NOW: Kubica's full-time F1® career ended at the finish of that 2019 season, but he has raced since, stepping in at Alfa Romeo as Kimi Raikkonen's replacement in the Netherlands and Italy last year after the Finn caught COVID-19. Kubica, 37, retains his place as Alfa Romeo's test and reserve driver this year.
George Russell (back row, second from left)
THEN: The 2018 Formula 2 champion was posing for his first 'school photo' at his first Grand Prix, the Briton joining Kubica at an all-new Williams line-up for 2019. Russell qualified 1.6 seconds faster than the Pole, but that was only good for 19th. He finished two laps down to winner Valtteri Bottas in 16th.
NOW: The link to Bottas remains for Russell; after partnering the Finn for one race as a stand-in for Lewis Hamilton at Mercedes in 2020 (and coming agonisingly close to winning), Russell replaced Bottas alongside Hamilton for 2022. Things may have changed more for Russell than any other driver since that 2019 Albert Park photo …
Daniil Kvyat (back row, third from left)
THEN: The Russian's stop-start F1® career was back on again in Melbourne three years ago. After being switched back from Red Bull to Toro Rosso in 2016 for Max Verstappen, and then dropped from Toro Rosso altogether midway through 2017, Kvyat spent 2018 as a simulator driver for Ferrari before Toro Rosso came calling for a third stint with the team for 2019. Starting 15th, he worked his way up to 10th and a world championship point in Melbourne.
NOW: After finishing 13th in the 2019 campaign and 14th a year later, Kvyat was replaced at the newly-named AlphaTauri for 2021 by Yuki Tsunoda, and became a reserve drive for Alpine last year.
Alex Albon (back row, third from right)
THEN: And you reckon Kvyat has had a topsy-turvy past three years … Melbourne 2019 was the British-born Thai driver's Grand Prix debut, where he finished 14th for Toro Rosso. Just 12 races later, he was parachuted into Red Bull's 'A' team in a job swap with Pierre Gasly to partner Max Verstappen, but then was out of F1® altogether after a difficult season with Red Bull in 2020.
NOW: After racing in DTM with Red Bull backing in 2021, Albon is back in 2022 – but with Williams, not either of Red Bull's two F1® teams. What happens after that, nobody would be brave enough to predict.
Antonio Giovinazzi (back row, second from right)
THEN: Australia 2019 was the Italian's first race for Alfa Romeo, but not his first foray at Albert Park; Giovinazzi debuted for Sauber in Melbourne two years previously when regular driver Pascal Wehrlein missed with injury, finishing 12th. In 2019, he was a non-descript 15th from 14th on the grid.
NOW: Giovinazzi is racing in Formula E this season after losing his Alfa Romeo drive at the end of 2021. He still has ties to F1®, though, retaining his test driver role with Ferrari.
Kimi Raikkonen (back row, far right)
THEN: 'The Iceman' posed for no fewer than 16 drivers' photos in Melbourne (all with a facial expression similar to this one), the first of them coming when he debuted in Australia for Sauber in 2001. In 2019, his first race for Alfa Romeo after leaving Ferrari for a second time, he both qualified and finished inside the top 10.
NOW: After a record 349 F1® starts, Raikkonen left F1® for good after last year's Abu Dhabi season finale, the 41-year-old finishing with 21 victories (including 2007 and 2013 in Melbourne) and the 2007 world title.
Sergio Perez (middle row, far left)
THEN: The 2019 season-opener was the Mexican's ninth race in Melbourne, where he debuted for Sauber back in 2011. A top-10 qualifying performance for Racing Point was the high point, as he drifted to 13th on race day.
NOW: Perez's career peaked, looked over and now has an assured future as he returns in 2022, winning his second-last race for Racing Point at Sakhir in 2020 en route to finishing fourth in the world championship, which led him being snapped up by Red Bull to partner Max Verstappen. Seventh (2017) is his best finish at Albert Park, which he'll be confident of beating this time around.
Lance Stroll (middle row, second from left)
THEN: Australia 2019 was the Canadian's first race for his second team, coming across from Williams to Force India to partner Perez in place of Esteban Ocon. He made a magic start too, Stroll climbing from 16th on the grid to ninth and two world championship points in the race.
NOW: Same team, different colours; Stroll is in his second year for the rebranded Aston Martin outfit in 2022, and starts his third Australian GP start in the third race of the season this April as he chases a maiden top-10 world championship result.
Carlos Sainz (middle row, third from left)
THEN: Sainz in new overalls in the Melbourne 'school photo' was nothing new in 2019, as the Spaniard had previously posed for the cameras with his classmates at Albert Park for Toro Rosso (2015-17) and Renault (2018) before his first Grand Prix for McLaren a year later. It was one that didn't last long; Sainz was the first retirement of the race just nine laps in, his engine smoking and then catching fire as he crawled into pit lane.
NOW: It's another year, another hue of overalls for Sainz in Australia, after he replaced Sebastian Vettel at Ferrari for the 2021 season. Can he add to Ferrari's history of success at Albert Park with his first Australian podium this April?
Lando Norris (middle row, fourth from left)
THEN: Like compatriot Russell, Norris stepped out for his first pre-season photo before his first Grand Prix in 2019, the-then 19-year-old qualifying an outstanding eighth before fading to 12th on his Grand Prix debut. After a so-so start to his first season, points finishes became the norm for Norris the longer 2019 went.
NOW: It's been over 60 Grands Prix between Norris' first and next race in Melbourne, and plenty has changed – for the better. He's an F1® pole-sitter, podium finisher and outscored Daniel Ricciardo in their first season as McLaren teammates in 2021 – and has a contract in his pocket that keeps him with the team until the end of 2025.
Romain Grosjean (middle row, fourth from right)
THEN: You can forgive the usually friendly Frenchman for not smiling for the cameras in Melbourne, as he probably suspected his annual Australian trip wouldn't go so well … A shock sixth on Haas' debut in Melbourne in 2016 was the outlier, as he didn't see the chequered flag in 2014, 2015, 2017 and 2018 … and again in 2019, when he didn't have a wheel affixed correctly at his pit stop (for the second year in a row) and retired from 13th place.
NOW: Everyone knows how Grosjean's F1® story ended, miraculously surviving one of the most terrifyingly fiery accidents in recent memory in Bahrain in 2020. Grosjean these days has become a star Stateside, racing to great acclaim in IndyCar.
Kevin Magnussen (middle row, third from right)
THEN: Back on the Albert Park grid wearing Haas overalls … nothing much has changed for the Dane, right? Hardly; the chances of Magnussen being in F1® ever again nosedived when he was dumped by Haas at the end of 2020, but he's back for a sixth start in Melbourne. Back in 2019, Magnussen qualified seventh and had his best result of the season by finishing sixth.
NOW: It seemed unlikely that Magnussen would ever top his second place on his F1® debut in Melbourne in 2014, but Nikita Mazepin's axing meant he put a planned 2022 campaign in American sports car racing on the backburner. He's still just 29, so the twist in his F1® tale could be as long as it was unexpected.
Daniel Ricciardo (middle row, second from right)
THEN: Looks happy to be at home, doesn't he? Ricciardo is rarely not happy, but his first race with Renault at home in 2019 was pretty miserable. It started with a run off track into a divot in the grass that smashed his front wing soon after the five lights went out, the resultant DNF after running around at the back hard to take for what was, as it turned out, his one race for Renault in Melbourne.
NOW: Ricciardo has swapped yellow overalls for McLaren orange and won another Grand Prix since he last stepped out in Australia. He's also a veteran of the sport these days, 2022 representing his ninth start in Australia in a career of well over 200 Grands Prix.
Nico Hulkenberg (middle row, far right)
THEN: Melbourne 2019 was the first race of the Ricciardo-Hulkenberg partnership, and the German was understandably chuffed with beating his Aussie teammate (by 0.008secs) in qualifying for 11th on the grid, which he turned into seventh and six world championship points in the race.
NOW: 'The Hulk' was outscored (54-37) and outqualified (14-7) by Ricciardo in 2019, and was replaced by Esteban Ocon for the following season. Hulkenberg wasn't lost to the sport, though; the 34-year-old raced at Silverstone and the Nurburgring the following year as a replacement driver at Racing Point, scoring points in both races. Now at Aston Martin as a reserve and development driver, Hulkenberg stepped in when Sebastian Vettel was sidelined with COVID-19 for the Bahrain GP.
Charles Leclerc (front row, far left)
THEN: The Monegasque driver was set to start his first race for Ferrari in Melbourne three years ago after one promising season at Sauber, where he showed enough for the Scuderia to instigate a job swap with Kimi Raikkonen.
NOW: Leclerc returns to Melbourne as a two-time race-winner, Ferrari's undisputed leader and the Italian team's ace as it prepares for a generational fight with Max Verstappen at Red Bull and George Russell at Mercedes that could rumble on for years to come.
Sebastian Vettel (front row, second from left)
THEN: Vettel had every reason to be confident when he posed for the season-opening pic before the Melbourne 2019 race; the German had won the previous two races at Albert Park for Ferrari, and had finished on the podium the past seven times he'd finished in Australia. But 2019 bucked that trend, a third-place qualifying result leading to a fourth-place finish. Ominously, given what was to come, Ferrari newcomer Leclerc was just a second adrift …
NOW: Singapore later that year was Vettel's 53rd Grand Prix win; will it be his last? After finishing just 13th in the 2021 championship, the four-time titlist moved to Aston Martin for 2021, his fifth (and likely) final stop. Of the active drivers on the Melbourne grid, none have won here more than Vettel, victor in 2011, 2017 and 2018.
Lewis Hamilton (front row, third from left)
THEN: Hamilton came to Melbourne in 2019 as the reigning world champion and qualified on pole, the same set of circumstances as a year prior … and again didn't take home the winners' trophy, finishing second for the fourth year running. He never led a single lap, eventually finishing a distant second behind Mercedes teammate Valtteri Bottas.
NOW: It worked out alright for the Briton at the end; by the close of 2019, he was a six-time world champion, and 2020 made it seven for a tie with Michael Schumacher as the most successful driver ever. And, if you need reminding, he was one lap away from making it eight in Abu Dhabi last year …
Valtteri Bottas (front row, third from right)
THEN: Bottas drove like a man possessed from the moment the lights went out not long after our image was snapped in 2019, beating teammate Hamilton into the first corner and simply clearing off. His margin of victory (20.886secs) is the biggest in his 10 career wins; if you're wondering how he felt about it, Google 'Bottas to whom it may concern' for the answer …
NOW: Three more wins in 2019 saw him finish second (to Hamilton) in the championship; another win in 2020 (the season-opener again, this time in Austria) saw him finish second in the championship to … you know the rest. A new challenge awaits further down the grid on his visit Down Under this time with Alfa Romeo.
Pierre Gasly (front row, second from right)
THEN: Australia 2019 was the beginning of Gasly's big career chance at Red Bull, taking the seat vacated by Ricciardo, but in retrospect it was a sign of things to come. Just 17th in qualifying and a lapped 11th at the finish started the slippery slope, and the Frenchman was banished back to Toro Rosso 11 races later, his career at a crossroads.
NOW: Gasly has rebuilt his reputation arguably more than any driver who returns to Australia this April. A late-season podium in Brazil 2019 restored confidence, and a win for AlphaTauri at Monza in 2020 confirmed his class. The 26-year-old's first points in Melbourne can't be far away.
Max Verstappen (front row, far right)
THEN: Melbourne was always a special place for the Dutchman, given he became the sport's youngest debutant at Albert Park in 2015 when he was just 17 years and 166 days old, and he made the Australian podium for the first time behind the Mercedes drivers in 2019 from fourth on the grid. It was, at the time, his 16th F1® podium finish.
NOW: Three years on, the last man on our list is the first man in F1®, Verstappen racing with the world champion's number 1 this season in Melbourne after taking the 2021 title in barely-believable scenes last December in Abu Dhabi.