Back
The history of the Formula 1® Australian Grand Prix in Melbourne
25/03/22

The world was a very different place when F1® came to Melbourne.
The Formula 1® world was a very different place on March 10 1996, when Melbourne hosted the opening round of the world championship – and F1® for the first time.
Only three team names from that season-opener – Ferrari, McLaren and Williams – remain on the 2022 grid, while 10 circuits from that 1996 season are still on this year's 23-race calendar. Nine of this year's drivers – including reigning world champion Max Verstappen, weren't even born yet …
As Albert Park gets set to – belatedly – host its 25th running of a world championship Grand Prix in April, let's take a trip down memory lane and look at the moments etched into Melbourne folklore.
1996-2000: British teams surge, but a red tide rises

Melbourne's first winner in 1996 was Damon Hill, the Briton claiming an unusual Australian quinella for Williams after winning the final race of the previous season in Adelaide. Good as Hill was in 1996 – he ended up winning that year's world title – the name on everyone's lips after taking pole and leading for 50 of the 58 laps was his rookie teammate Jacques Villeneuve, the Canadian coming across after a glittering American open-wheel career to star in Australia, only a late-race oil leak seeing him fall to second.
The quick Canadian took pole in 1997 too, but lasted all of one corner in the race before being taken out by Ferrari's Eddie Irvine. Scot David Coulthard won the race, McLaren's first victory since Ayrton Senna took what was to be his final Grand Prix triumph in Adelaide in 1993.
It was a sign of things to come for the British team in Melbourne, McLaren recording a 1-2 result in 1998, with Mika Hakkinen winning from Coulthard after a controversial pre-race agreement between the pair that whoever got to the opening corner first would be allowed to take victory. With third-placed Heinz-Harald Frentzen a lap down in a Williams, it wasn't like McLaren were in a fight with anyone else …
A similar McLaren whitewash looked likely in 1999 after Hakkinen and Coulthard had more than 1.3 seconds in hand over the rest in qualifying, but mechanical gremlins saw both drivers out before half-distance, Irvine taking his maiden Grand Prix win in an attritional race where just eight of the 22 starters made the end.
Irvine's breakthrough loosened the lock the British teams had on the top step of the Melbourne podium, Michael Schumacher capitalising on more reliability woes for McLaren in 2000 to lead home new Ferrari teammate Rubens Barrichello in a 1-2, striking the first blow in a season that would lead to Schumacher's first title in red.
2001-05: Ferrari reign before 'Fisi' tastes the bubbles
Schumacher made it back-to-back Melbourne victories in 2001, his fifth win in all dating back to the end of the 2000 season, and added another in 2002 – but it was his sibling who hogged that year's headlines.
A fast-starting Ralf Schumacher thundered into the back of Barrichello's pole-sitting Ferrari at Turn 1, his Williams flying through the air in the most famous photo of Melbourne's time on the calendar. The resultant mayhem eliminated nearly half the field, setting the stage for Mark Webber to score points on debut for fifth for the minnow Minardi team owned by Australian compatriot Paul Stoddart. Those in attendance that day – including a motorsport-mad Perth 12-year-old named Daniel Ricciardo – will never forget it.
Coulthard snapped the Ferrari stranglehold in Melbourne in 2003 after reading Melbourne's capricious autumnal weather better than anyone else, taking his second Albert Park win for McLaren. Schumacher resumed normal service for Ferrari in 2004, however – the German great dominated in a Ferrari 1-2 with Barrichello that left the rest half a minute or more behind. It was the first of 12 Schumacher wins in the first 13 races that season – and a fifth title on the bounce.
The Australian season-opener in 2005 saw the debut race for a new team by the name of Red Bull Racing … and Ferrari's succession of red-letter Sundays at Albert Park come to an end thanks to Renault, and Italian Giancarlo Fisichella. At the end of that season, it was Fisichella's teammate Fernando Alonso – who stormed from 13th on the grid to the podium in Melbourne – who unseated Schumacher as F1® world champion.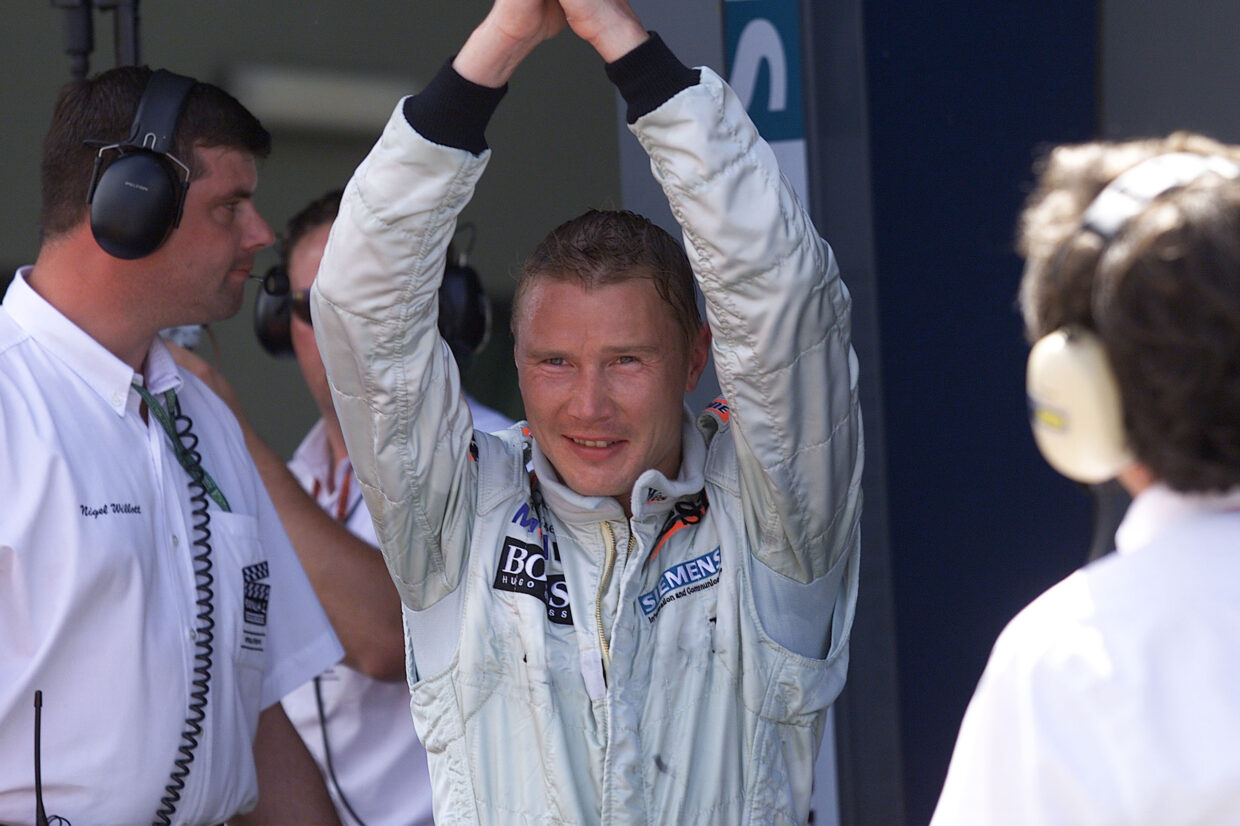 2006-10: Champions step forth

Speaking of champions … the following five races at Albert Park were all won by drivers who were later to stand atop the world, albeit in very different circumstances.
Alonso started the ball rolling when he won in 2006, his Renault sporting the world champion's number one on its nosecone for what wasn't race one of the season for the first time in Albert Park's history, Australia hosting round three of the championship because of the Commonwealth Games being held in Melbourne.
Schumacher stepped away from F1® after 2006 and his successor, Kimi Raikkonen, won on debut for Ferrari in 2007 en route to taking his sole world title. Meritorious as the Finn's win was, it was a rookie named Lewis Hamilton who stole the spotlight in his first Grand Prix, audaciously passing McLaren teammate Alonso at the first corner and finishing on the podium in his debut.
Hamilton would miss the 2007 title by one point before winning in 2008 by the same margin, his five-win season getting off on the right note in Melbourne with a comfortable victory from pole.
Fast-forward a year to 2009, and perhaps the most unlikely story in F1® history wrote its first chapter at Albert Park. Brand-new team Brawn GP won on debut with Jenson Button leading home Barrichello, the team owned by Ross Brawn and born out of the ashes of Honda's F1® withdrawal providing an upset for the ages. It was the first win of Button's world championship season.
Brawn was bought out and the team renamed as Mercedes for 2010, but Button made it back-to-back wins in Melbourne with new employers McLaren, the Briton using his trademark brilliance in half-wet, half-dry conditions to time his move to slick tyres perfectly. It was the second – and final – time before 2022 that Melbourne didn't host the season-opener in its years on the calendar, that honour being bestowed on Bahrain.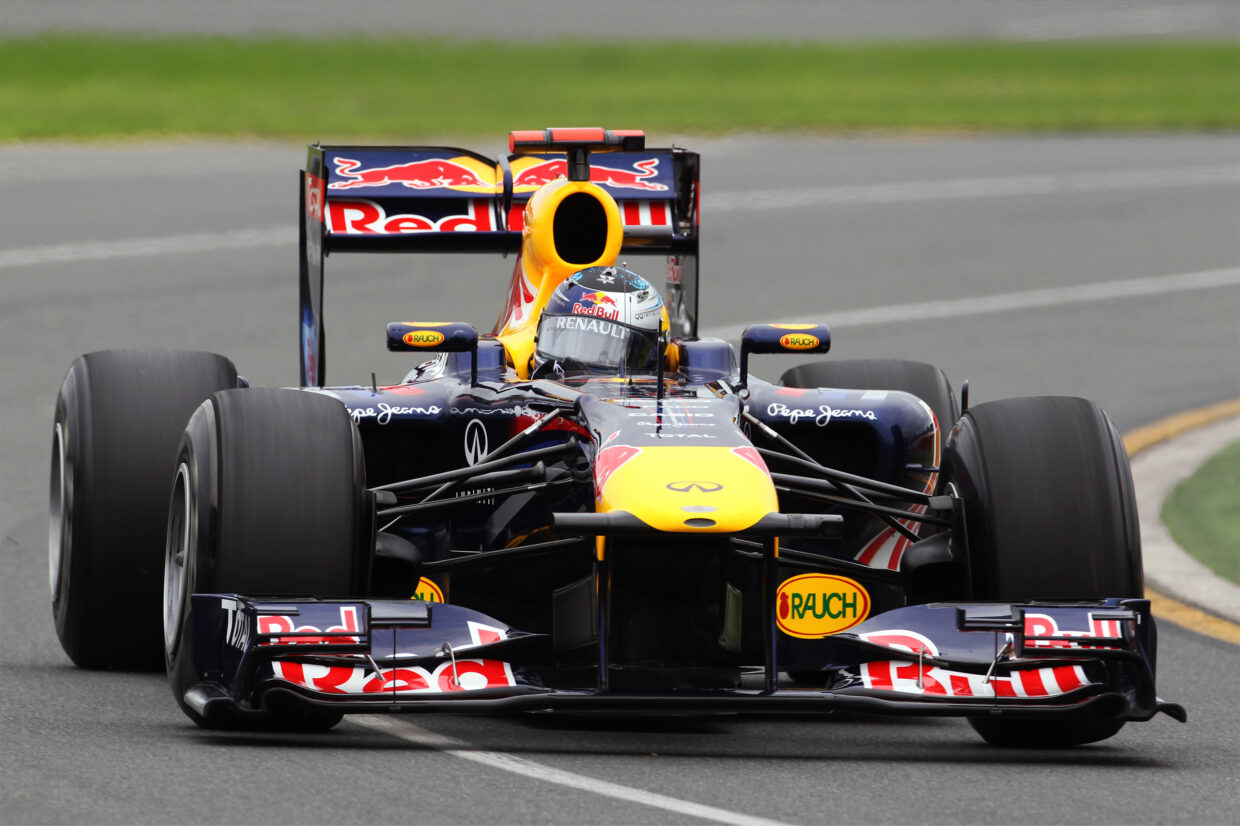 2011-15: Eras end, eras start

Remember that fledgling Red Bull team we mentioned earlier? They had more than come into their own by the time Australia hosted its 2011 race, Sebastian Vettel winning a dramatic 2010 end-of-season showdown between four drivers in Abu Dhabi for the world championship. The German immediately backed that up with victory at Albert Park the following March.
Vettel would have more success in Melbourne later in the decade, but Red Bull's dominance elsewhere in the early part of the noughties – it won four straight drivers' and constructors' championships – never really translated to Australia, to the disappointment of local fans following the fortunes of Webber and his successor Ricciardo.
Button was back on the top step – for the third time in four years – for McLaren in 2012, while Raikkonen – back for a second year with Lotus after taking time away from F1® to race rally cars – took an anomalous win in 2013. It was Finn's penultimate victory – he won just once more, for Ferrari in the United States five years later – while the next win anywhere for a team not named Ferrari, Mercedes or Red Bull didn't come until 2020, when Pierre Gasly won the Italian Grand Prix for AlphaTauri.
Come 2014, F1® changed its engine formula to the 1.6-litre V6 turbo hybrids we still see today – and Melbourne marked step one in an eight-year run of Mercedes dominance that came with those new regulations. Nico Rosberg won by nearly half a minute from Ricciardo on his Red Bull debut before the Australian was devastatingly disqualified, his car breaching the sport's fuel flow regulations.
Rosberg's teammate Hamilton won that 2014 title, and started a successful championship defence in style a year later by winning the 2015 race from what was a then-record fourth Albert Park pole. Success on Saturdays – but not Sundays – was set to become a Hamilton trademark, though …
2016-19: Vettel stands his ground, Bottas makes his point
Mercedes spent much of the back half of the 2010s demolishing the rest of the field wherever it raced, but – curiously – the Silver Arrows weren't always the gold standard in Melbourne.
Rosberg did make it two wins in three years in Australia by annexing the 2016 race, which was interrupted by a red flag following an enormous accident between Alonso's McLaren and the Haas of Esteban Gutierrez. There was joy for the American debutant team at the end of the race though, with Gutierrez's teammate Romain Grosjean scoring points after changing his tyres during the stoppage to clear the track and finishing sixth.
Hamilton took pole for Mercedes in both 2017 and 2018, but on both occasions it was Vettel, now at Ferrari, who kick-started his campaign with Melbourne victories, the second of them ensuring the Scuderia would end the decade as Albert Park's most successful team with eight wins.
Hamilton made it six poles in a row in Melbourne in 2019 with the fastest-ever lap of the circuit in qualifying (1min 20.486secs), but the Briton again finished as the bridesmaid, ending up second for the fourth year in a row as teammate Valtteri Bottas aced the start and careered away to his fourth career victory, and one that came after a winless 2018 campaign.
"To whom it may concern, f*** you," was the Finn's forthright riposte to his critics in a year that ended with – you guessed it –teammate Hamilton as world champion for a sixth time.