Back
Red Bull vs Ferrari: An In-depth Analysis of the Saudi Arabia Grand Prix
30/03/22

Thanks to Versor, the official AI partner of the Australian Grand Prix.
Max Verstappen finally overcame Charles Leclerc on lap 46 and took the chequered flag by just 0.549s in a keenly balanced contest in Saudi Arabia, F1®'s fastest street circuit.
The win marked Verstappen's first points of the 2022 season, with Carlos Sainz on the podium in third and an unfortunate Sergio Perez having to settle for fourth, emphasising the gulf in performance between Ferrari, Red Bull and the rest of the field.
Perez started from 1st place on the grid, his first-ever pole in 215 attempts, and led comfortably, consistently posting sub 1m35s laps. Red Bull pitted Perez early on Lap 16, in anticipation of a Ferrari undercut, which may have ultimately cost him the race after Nicholas Latifi crashed at the final corner requiring the intervention of the Safety Car.
With such tiny margins deciding the race – just 0.559s over 1hr 24 minutes - taking a wholistic view of the data provides an alternate insight into the dynamics of the race.
Looking at the overall lap time distributions using a box and whisker plot illustrates Q1 to Q3 quartile values, the median (Q2), and whiskers extending from the edges of box to show the range of the laptime. This illustrates the variation in lap and the three sector times for multiple drivers on the same graph. After removing the outliers, due to safety cars and pitstops, analysis of the remaining 41 laps demonstrates the amazing consistency of the best drivers in the world where just hundredths of a second can make the difference.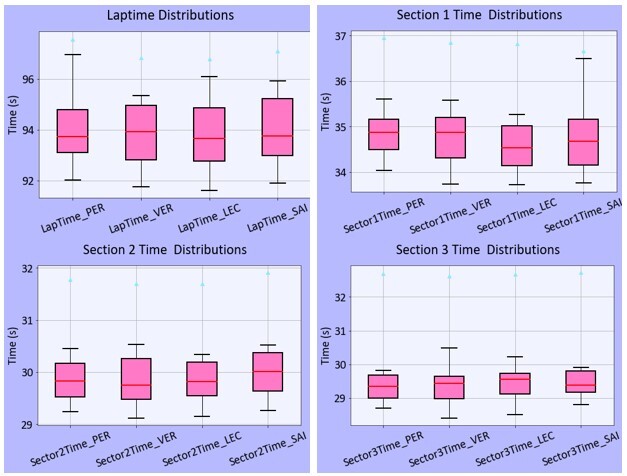 Leclerc had the fastest lap, the best overall median (1m 33.670) and the best interquartile range for lap times, Ferrari also had the best Sector 1 times, likely due to Ferrari running greater downforce.
Both Red Bulls made gains in the power Sectors 2 and 3 throughout the race, where the superior top-end speed of the Red Bull was evident yet again. Despite having the slowest lap time median of 1m 33.928, Verstappen emerged victorious after a wheel-to-wheel tussle with Leclerc and then showing considerable race craft (and patience) to employ his DRS at the optimum moment after being caught our earlier in the race and previously in Bahrain.