Back
An in-depth analysis of the F1® Monaco GP 2022
30/05/22

Thanks to Versor, the official AI Partner of the Australian Grand Prix.
Sergio Perez scored his first victory of the 2022 season after a tight finish at the iconic street circuit of Monaco.
Charles Leclerc started the race on pole after an impressive lap in qualifying and looked likely to win his home race for the first time in his career. On a circuit renowned for limited overtaking opportunities and slow-medium corners where the F1-75 Ferrari has superior traction and apex speed, a Ferrari victory seemed all but certain. However, wet weather and pit stop strategies would prove to be huge factors in the results of the race.
The historical 78 laps, 3.337 km circuit through the twisty, narrow city streets of Monaco does not meet the FIA's 305-kilometre minimum race distance, however, it offers its own unique set of challenges. Despite being the shortest and slowest circuit on the calendar, with an average speed of just over 160km/h and seven corners with an apex speed of less than 100km/h, it is a firm driver favourite. It is less of a physical challenge compared to other circuits, but the mental demands of navigating the treacherous and unforgiving track are extreme; one small error can easily ruin a driver's race.
After a delay due to heavy rain, the race eventually started under safety car conditions with all teams having to start on wet tyres. Tyre strategy was key to the outcome of the race, as illustrated in the graphic below which highlights the different strategies amongst drivers that finished in the top 10 of the race: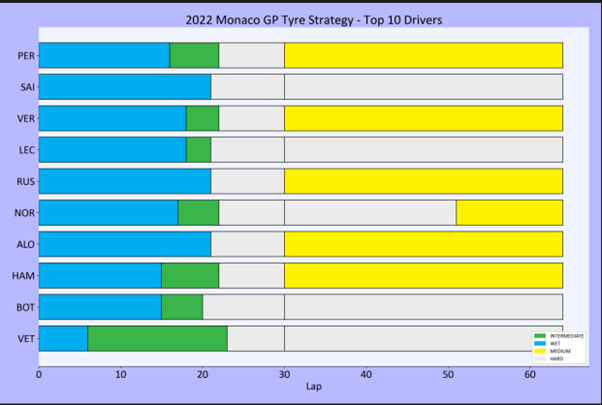 On a circuit like Monaco, where overtaking opportunities are at a premium and the chances of a safety car are very high, using pit stops to undercut or overcut a competitor are essential and any pitlane errors are amplified.
Perez's win can be ultimately attributed to his cool-headedness and his decision to pit for intermediates on lap 16, whereas Leclerc and Max Verstappen opted to remain on wet weather tyres for 2 more laps. Perez's speed on the intermediate compound during those two critical laps allowed him to undercut both Leclerc and Verstappen to move into second place behind Carlos Sainz, who planned to transfer directly to slick tyres.
A comparison of the telemetry data shows the difference in performance between Perez on the intermediates and Leclerc on the wet weather tyres for lap 18, prior to his first pitstop. Perez's sector times were 22.905 seconds in sector 1 and 39.170 seconds in sector 2, whereas Leclerc could only manage times of 24.437 and 42.87 respectively, a staggering difference of over 5.2 seconds through the first two sectors of lap 18. Perez had much greater traction out of corners and was able to drive on the optimal racing line.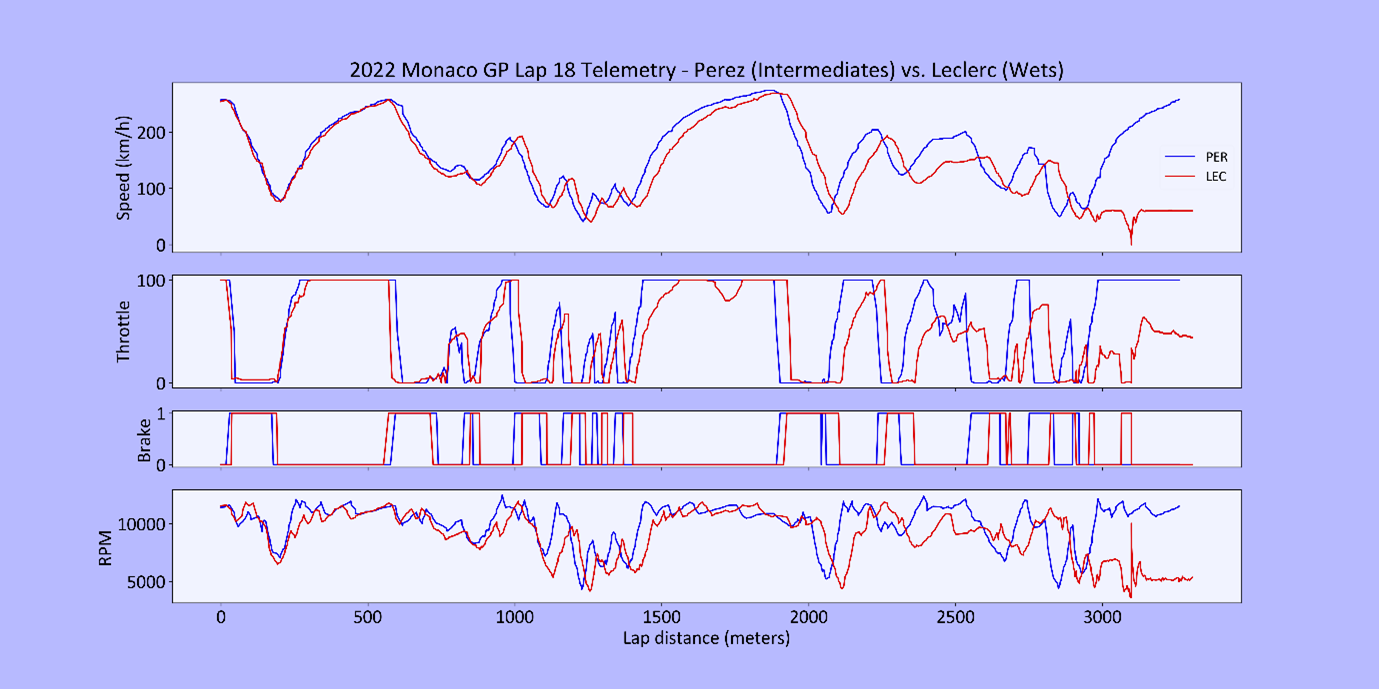 Leclerc's miserable afternoon was further compounded when Ferrari brought him in 3 laps later to switch medium compound tyres directly behind Sainz, delaying him further.
Mick Schumacher's high impact crash on lap 27, which severed his Haas in two, prompted the deployment of a virtual safety car and then a safety car. This would lead to tyre changes for some teams and another rolling start. The safety car compressed the field resulting in an exciting finish to the now shortened 64 lap race, with the top four drivers separated by just three seconds.
The Red Bulls of Perez and Verstappen who were on their faster deteriorating medium compound tyres successfully managed to fend off the Ferrari's of Sainz and Leclerc who were on the hard compound.
Strategic errors led to yet another heartbreak for Leclerc in his home race. Despite finishing a race at the Monaco circuit for the first time in his career, Leclerc is unlikely to savour any consolation prize after missing a prime opportunity to make up ground in the Championship standings after dropping to 4th place, one position behind his rival Verstappen. Red Bull's perfectly executed strategy produced a well-deserved win for Perez, whilst also extending their lead in the Constructors' Championship by a further 10 points.