Back
An In-depth Analysis of the Formula 1® Heineken® Australian Grand Prix 2022
11/04/22

Leclerc dominated the whole race weekend.
Charles Leclerc was victorious at the revised Albert Park Circuit for the Formula 1® Heineken® Australian Grand Prix 2022, leading from start to finish in his F1-75 Ferrari.
Leclerc dominated the whole race weekend, from qualifying in pole, maintaining his advantage into the first corner, to clinching the chequered flag with the fastest lap of the race.
Sergio Perez claimed second place for Red Bull after his teammate, Max Verstappen, retired on lap 38 with a fuel system problem. Mercedes finished a creditable third and fourth with George Russell and Lewis Hamilton, respectively, after a weekend that initially promised very little.
The Albert Park circuit has been resurfaced and modified to improve passing opportunities, with a widening of five corners and the removal of a chicane to create high speed turns 9 and 10, resulting in a much faster second sector.
A fourth DRS zone was initially planned in the run-up to turn 11 but eventually removed due to safety considerations. This faster sector played into the hands of the powerful Red Bull and its superior straight-line speed, especially as both Ferrari and Mercedes were experiencing "porpoising" on this section of track. Perez consistently posted the fastest sector two times throughout the whole race.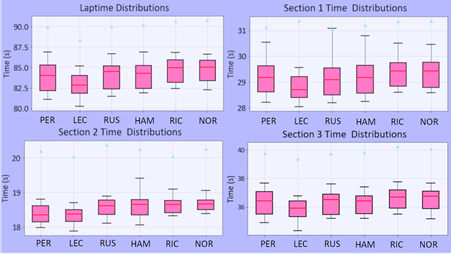 However, Ferrari again dominated in the first and final sectors' medium and slow speed corners, with Leclerc, in particular, making significant gains over his rivals in sector three, as illustrated in the sector lap times taken over all 58 laps.
Verstappen struggled to keep pace with Leclerc's Ferrari throughout the race, losing almost a second a lap after the first safety car. Pushing hard and with a heavy fuel load, He suffered heavy tyre degradation to his front left tyre prompting an early pitstop on lap 17. He eventually retired on lap 39 with a fuel system problem, but neither Red Bull was ever in a position to challenge, with lap times consistently slower than Leclerc.
Despite flirting with the grass, Perez maintained a good pace but could not match the electric pace of Leclerc, who posted the fastest lap of 1:20.260s. Their respective fastest laps' telemetry shows the gulf in speeds throughout the final lap, with Perez 0.834s slower.
With the Italian Grand Prix at the Emilia Romagna Grand Prix on April 24, all the teams have much work to do. Red Bull must resolve their reliability issues, Mercedes and McLaren need significant upgrades to resolve their competitiveness, and even Ferrari cannot afford to rest upon their laurels.