Back
An in-depth analysis of the F1® French GP 2022
25/07/22

Thanks to Versor, the official AI Partner of the Australian Grand Prix.
Max Verstappen won the 2022 French Grand Prix to claim his seventh win of the season after what may ultimately become a pivotal moment in the F1® Championship race.
Charles Leclerc lost the rear of his car and spun into the barrier on Lap 18, forcing him to retire from the race. Mercedes secured their first double podium of the season with Lewis Hamilton in second place and George Russell in third. Sergio Perez came in fourth, whilst Carlos Sainz was able to salvage a fifth-place finish after starting 19th on the grid due to penalties after taking a range of power unit changes, in what was a poor finish to what looked to be a promising weekend for Ferrari.
The Paul Ricard Circuit is built on a flat plateau, with an elevation change of just over 30 metres. It offers an intriguing combination of high, medium and low-speed corners in addition to a long straight making it an ideal track for testing a car's performance.
The early stages of this race were a microcosm of the story of the season so far - the intriguing technical battle between the Red Bull's high-speed performance on straights and Ferrari's dominance of the low to medium-speed corners. On the long Mistral straight Verstappen had an enormous speed advantage (up to 29km/h with DRS, 8km/h without DRS). However, the intricate third sector played into Ferrari's hands with Leclerc able to re-extend his time gap over Verstappen.
Despite Verstappen's superior pace during the early exchanges, Leclerc had successfully weathered Verstappen's onslaught under DRS and maintained the lead, building a time gap of two seconds by lap 16. Unfortunately, just as the race was turning in Ferrari's favour, Leclerc lost grip at the high-speed Beusset turn and spun off into the barriers, ending his race.
Verstappen and Hamilton finished in first and second places respectively in 2021 and 2022 in the French GP on the same circuit, making it an interesting subject for longitudinal data analysis. Coincidentally, Mercedes and Red Bull completed the top four places last year, again with Sainz's Ferrari in fifth place.
As discussed in previous post-race analyses, changes to aerodynamics in 2022 were introduced, and Mercedes, in particular, have not adapted to the new regulations as well as other teams. With the porpoising issues behind them now, Mercedes have been focusing on performance upgrades and unveiled a new tapered nose cone for the French GP to reduce aerodynamic drag and improve cooling.
Verstappen's 2022 fastest lap time is over 1 second slower than the quickest lap he set in 2021, whereas Hamilton's 2022 lap time is just 0.258 seconds slower than the mark he laid down in 2021. Comparisons of the telemetry for both drivers in 2021 and 2022 reveal some interesting insights into how both Hamilton and Verstappen have adjusted to the vastly different cars introduced this season. When asked about the differences in this year's cars, Leclerc said, "The driving style changes a lot. Especially the braking for the slow speed like from mid to end braking you can really feel the weight of the car. You've seen a lot of front and rear locking in this end part of braking, especially with this car, so you need to drive differently".
Verstappen added to this by saying, "These cars are a lot slower in the slow corners because they are a lot heavier. On a track with a lot of slow corners, it will be less fun for us to drive".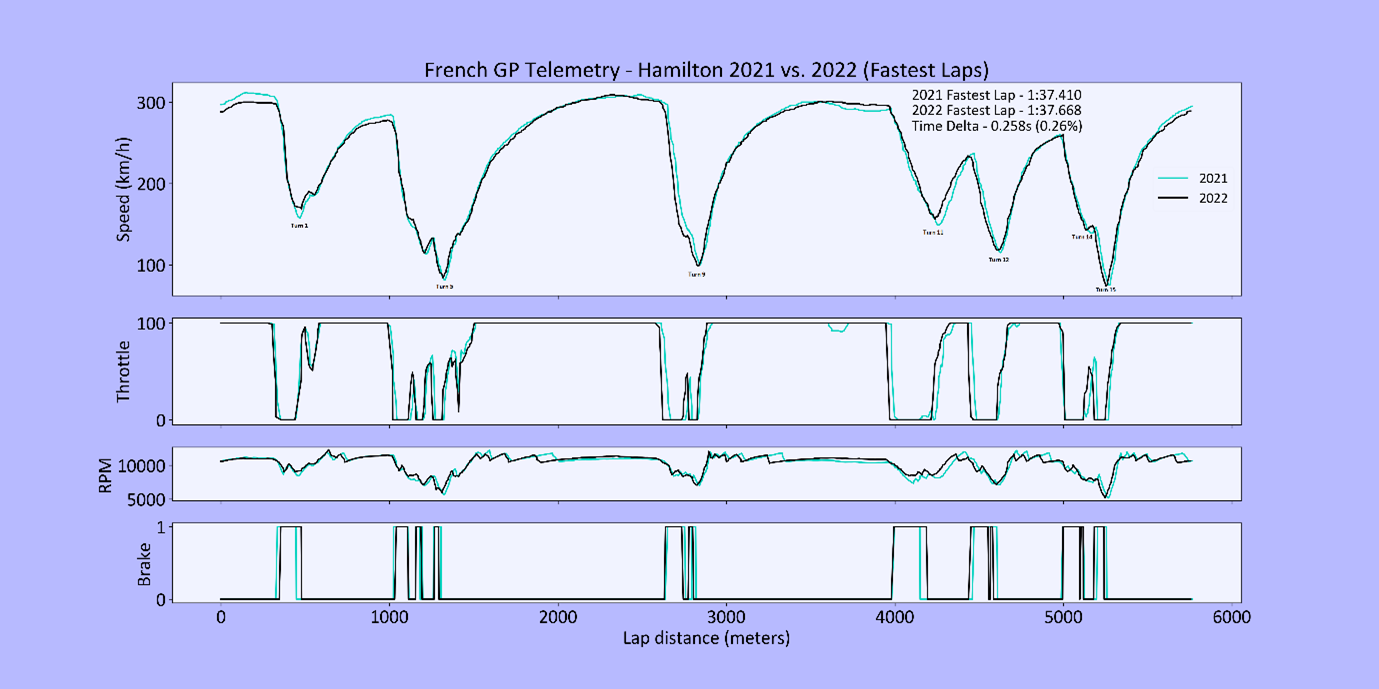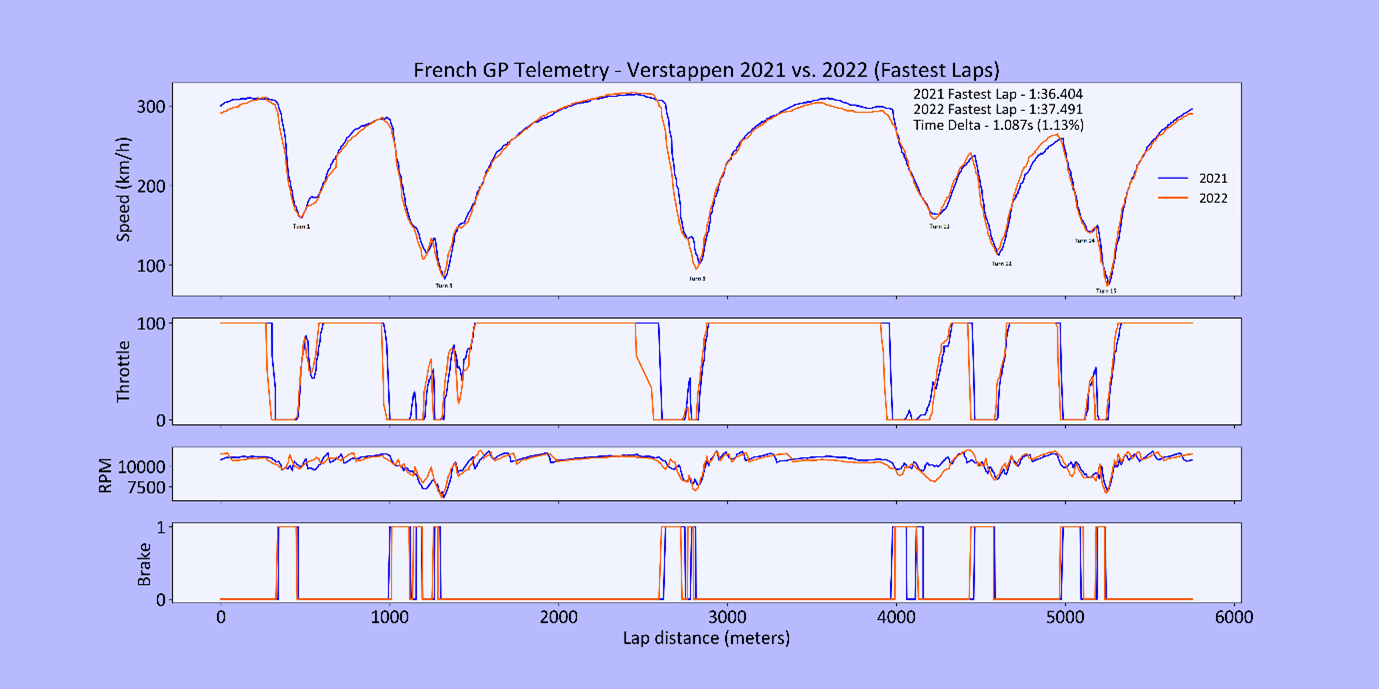 Whilst there has been very little difference in Hamilton's driving style in the 2021 French GP compared to this year's race, Verstappen has adjusted his driving style a considerable amount, especially in the low-speed corners which he mentioned were going to be a challenge with the new cars.
Although Verstappen's 2022 RB18 reaches higher top speeds than his 2021 car, he is much earlier on the brakes this year, especially into turns 1, 9 and 11. Other key differences are that in 2022 Verstappen's apex speed is noticeably slower, and there is much less throttle adjustment through the corners. This is likely attributed to the increased weight of the cars, which has led to much more understeer.
The most significant difference in that regard is on the approach to Turn 4, where Verstappen does not throttle at all compared to 2021, where he applied throttle in the same section; this is in stark contrast to Hamilton, who had a very similar throttle trace in this year's and last year's race.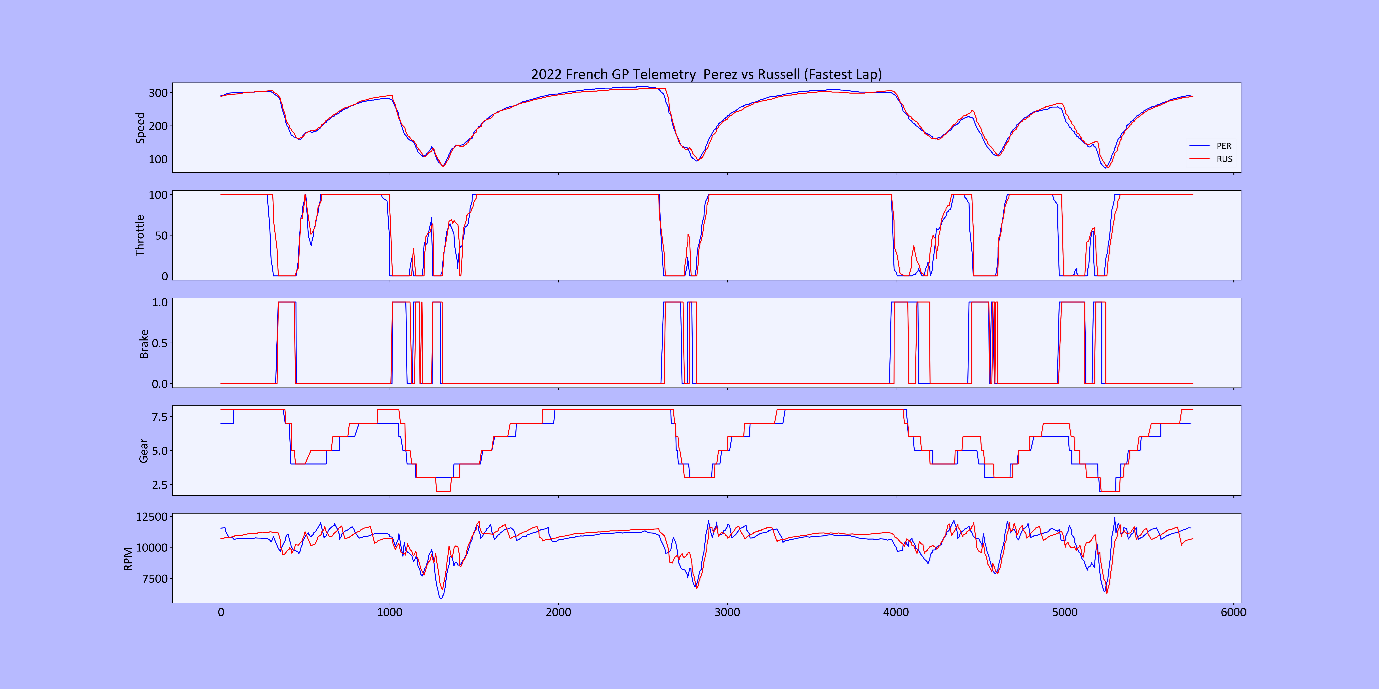 Hamilton's teammate Russell was also combative, taking part in a spirited duel with Red Bull's Perez. Although Perez had an advantage on the straights, Russell managed to keep pace with Perez, exiting on full throttle at each corner and setting markedly faster times in Sector 3 compared to Perez, where he was 0.345 seconds faster on both driver's respective fastest laps. Russell could finally pass Perez at Turn 14 after a late virtual safety car restart on Lap 50 to claim the final podium place.
With the Hungarian Grand Prix next week, the final race before this season's summer break, Verstappen is firmly in control of the Driver's Championship after extending his lead to 63 points following Leclerc's retirement. Leclerc can at least hold onto a glimmer of hope after Ferrari's solid pace in qualifying and the early stages of the race, but it won't be much solace for a driver who expects more from himself. If he wants to make a comeback and rekindle this Championship battle, he must put this specific, painful moment behind him.